With Proactive Super-Mom, and the Administrative Director of The Social Mind Center, Ana Anselma
5 years ago, Ana and her team of super experts began The Social Mind Center, where children who are gifted, shy, those who have Autism Spectrum Disorder, Social Communication Disorder Aspergers, ADDHD, Language Delays, Learning Disabilities, and Anxiety Disorders, are given the interventions, tools and strategies they need for success. Ana is also the author and founder for Autism Mind, Inc. a website and service that educates, equips and empowers parents to live a different life with autism.
Ana coaches and trains parents to be their child's most influential advocate. Ana also assists parents with creating an intervention plan that compliments their child's unique profile. As a parent of two children on the autism spectrum, she has personally traveled the complicated path of a life with autism. Ana is a wonderful advisor and a wealth of knowledge on the topic of how to best equip our children for success; it's a pleasure to have her as a part of the School 360 series.
Here we go:
Ana, how can parents best equip their child to avoid academic or social pitfalls?
Make sure that you are well versed on the academic and social expectations for the academic year. Obtain detailed and specific information as to the expectations for each academic subject and on how to best navigate the school environment, in things such as:
• Details on homework-and ensuring homework assignments are completed and turned in
• Testing formats
• Teacher communication-staying informed as to any challenges
• What are the academic goals for that grade? (example: in 3rd grade there is a shift from learning to read to reading to learn, which is a significant shift in curriculum. Reading comprehension should be adequate).
• What are the social developmental requirements for the grade (there may be a requirement to work in group projects cooperatively and collaboratively).
Should parents have a pre-year meeting with the teachers, and if so what kinds of things should be discussed?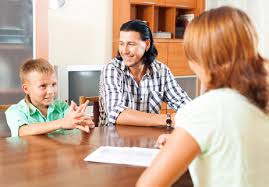 Parents should meet with teachers as early as possible in the year to obtain detailed information of expectations for the year and to discuss students strengths and weaknesses. For example:
My child does well academically, however needs assistance with staying organized.
Team up and formulate a strategy, which you will both use to help your child stay organized.
In this midst of gathering all this information, what tips can you give parents on keeping a healthy perspective?
Every child wants to succeed and every child has a purpose and place in the world. Believing in your child, encouraging and supporting them is critical. Providing them with the tools and resources needed for them to perform to the best of their ability should always be the goal. We all have weaknesses and strengths. When we ignore our weaknesses they can over power our strengths. We need to be proactive about addressing our weaknesses and making sure that there is no underlying source of weakness. Monitor your child closely, and if the struggle increases in intensity and frequency, seek a professional opinion.
How can centers like yours aid parents and student through the school year?
Our center can assist parents with identifying underlying learning deficits and language delays that can impact progress in reading, writing and comprehension. We can help to identifying if there is a learning difference impacting academic and/or social progress.
Are there any resources you would recommend to parents?
Yes, there are 2:
www.understood.org
www.allkindsofminds.co m
If there was one big takeaway you would have for our readers today, what would it be?
Do not ignore skill deficits, as they rarely fade without being addressed. Foundational and fundamental skills are acquired in elementary early years, and it is important to address skill gaps...the earlier the better. Addressing skill deficits in the earlier academic years is simpler than in middle or high school.
Thank you, Ana. If our readers wanted to contact you, or your clinic, what would be the best way to do that?
They can email me at: ana@socialmindcenter.com