With Counselor Extraordinaire, Gayle Greenwood
As Director of Counseling at The Lovett School, Gayle has used her unbelievably authentic care for others and her vast knowledge of the heart and mind to care for young people and their families for years. With 25 years of experience as a counselor in the school system, and in working with abused women and young, pregnant girls, Gayle is overflowing with practical wisdom on how we can best prepare and help our children. It is a great honor to have Gayle, someone who is so passionate about what she does and is very good at it, take time for us today. Let's rock and roll:
Gayle, with so many children starting a new year and many in new places, do you have any tips on how to acclimate well to a brand new school?
It's important for parents, and kids, to recognize that when leaving a previous school – particularly one that the child has been at for several years – that there is a natural grieving process. This "grief" isn't always recognized as such and helping the child/family realize what they're experiencing helps in the acclimating process. It's important, at the beginning of the summer, to assign a buddy/family to a new child and their family. This helps tremendously. When possible, the buddy should be in the new child's classroom. It's also helpful to create a Circle of Families group that consists of the new family and returning families. This provides great support to the parents and kids. As the counselor, I try to eat lunch with all of the new kids to talk about how they're feeling about their transition. This allows them to get to know me quickly and realize I'm there to talk with and to help.
How can parents best help their children through conflict resolution?
The most important thing a parent can do is listen and help the child, not the parent, problem solve. All too often, parents let their own feelings get involved and this can either add "fuel to the fire" or overly dramatize a situation. Children most want to simply be heard. In order to begin to help, the parent should try to identify the feeling that the child is projecting, i.e., hurt, anger, confusion, etc., and then connect that feeling to the content of the story the child is telling. "So, you sound really hurt that your friends were talking about you. I can understand how that must hurt your feelings. What do you think you might want to do?" Allow the child to offer ideas and then gently guide the child toward an idea that might work by asking "what do you think might happen if you try that? If you don't?" Try to steer clear of blame on either side.
How can families help students who are overwhelmed by school work?
First and foremost, talk with the teacher. Find out the expectations. Check to see about how long a child should be spending on homework and see if it's consistent with the time your child is spending. Find ways to "chunk" the homework, put up a calendar on the wall in their study area where projects and deadlines can be noted. Make sure all work is in the book-bag the night before and place the book-bag by the door for easy pick-up. Again, always talk with the teacher first to gauge their perspective on the situation – it might provide some clarity.
How can a school counselor best aid your child?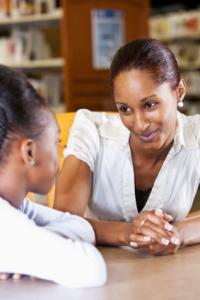 I always say that I want a child to come in happy in the morning and leave happy in the afternoon because then a child is emotionally ready to learn. When a child is hurting, learning suffers. My job is to help determine why a child is hurting. Children should always be encouraged to self-refer to the counselor and for parents to know that the counselors are part of the team for their child. School counseling offices are a place where a child should feel safe. It is never a place of punishment. While I may talk with a kid about a poor choice, it is never from the perspective of discipline, only from the point of a life lesson.
Are there any resources you would recommend to our readers?
I'm a big proponent of parenting programs. If a school offers one, take advantage of it. I teach Positive Discipline and feel it is an awesome parenting program. I also recommend that parents take a class on children's sexual safety. The one I teach is entitled Darkness to Light and I highly recommend all parents take such a course. Three authors that I recommend are Dr. Michael Thompson, Wendy Mogel and Dr. Avril Beckford. Awesome people.
If there is one big takeaway for our readers, what would it be?
Love your children without conditions. I think we all say we do, but, often parents place conditions and expectations on children that can cause a child to feel that they must meet/exceed those challenges to feel truly loved and valued. Your child is not you. Welcome mistakes and view them as opportunities to learn/do better. The value of a child is not based on their abilities, but on who they are.